Average Manufacturing OEE - Overall Equipment Effectiveness - in the US
OEE is a critical KPI for manufacturing efficiency and is deeply connected to most continuous improvement programs . It is calculated from collected data using a set of equations to calculate different production factors, and combining them into a single score. A typical OEE is considered to be around 60%, or in a range between 50%-70% depending upon your industry and which sources you cite.
According to a benchmark study on OEE which studies 100 manufacturing operations, the average OEE is 66.4.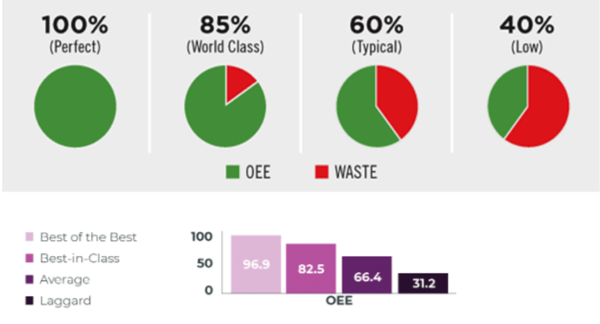 Image Source SageClarity
How is OEE calculated?
OEE is a combination of 3 different metrics:
Quality: The percentage of faulty parts produced during production time.
Performance: The speed of production compared to the theoretical fastest time per part.
Availability: The amount of downtime (planned or no) during scheduled production time
This still does not provide a complete picture of the details accounted for OEE. Zooming in further, these metrics are actually a simplified form of what is known as the Six Big Losses. Altogether, these are Planned and Unplanned Stops, Slow Cycles and Small Stops, and Startup Loss and Process Loss. For additional information about the Six Big Losses, click here.
What do these scores really mean?
Different ranges of scores mean that you need a different primary focus for improving results. Even the most efficient plants are trying to improve, but they have different focuses than average or lagging facilities.
In the best plants and above average plants (OEE of 70%) it is often best to focus on improving availability by focusing on reducing short-stops.
For average performers (~50%-70%) equipment failures and other causes of unplanned major downtime are typically the biggest concern
For underperforming plants, (below 50%) it is most important to focus on tagging downtime events to provide improvement insights and reducing equipment failure
Average smart factory implementation
Keeping track of OEE is an essential part of operating an effective smart factory. The data used to calculate OEE and other key metrics can be collected using a monitoring tool, such as Worximity, which is attached to existing or new equipment. Such a solution ensures that OEE and other metrics can be continuously calculated, monitored and improved.
Smart Factory Implementation Rates are a solid proxy for OEE improvement rates, as a primary goal of implementing smart factory technology is to move the needle on key continuous improvement metrics such as OEE. The US is leading the world in smart factory implementation, with 54% of factories having operational smart factory initiatives, and an additional 36% planning to implement a system.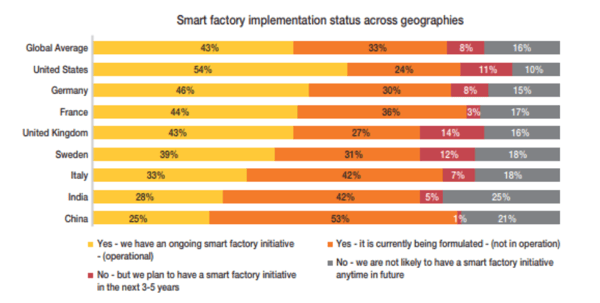 Image Source: CapGemini
Case Study on the Effects of Implementing OEE
While every company is different, we can look at case studies to demonstrate the usefulness of data collection and process monitoring. Amalgamated Dairies Limited implemented the Worximity solution to track downtime and production speed, OEE factors.
The new live data helped them to monitor for problems, and helped management determine opportunities for process improvements.
This case study showed impressive results including:
7% increase in uptime
$1800 per month reduction of downtime cost
$0.15 per unit labor savings
23% decrease in labor cost per unit
17% reduction in total production hours
To learn more about how Amalgamated Dairies Limited achieved these impressive OEE improvements, read the case study below!