The Dairy Industry is faced with the major issue of created waste during the production process and it is negatively impacting profits, as well as the end product and satisfaction of the customer. Customers want a product that is of the highest quality possible, made freshly and is reasonably priced. By adapting and utilizing lean methods into the diary manufacturing process, a diary plant can add value to their end product, which will result in increased profits, minimal waste and a more satisfied customer. A few steps that a dairy manufacturer can take in order to reduce waste and maximize efficiency would be the implementation of the some principles of lean manufacturing in the dairy industry: Value Stream Mapping (VSM) and Jidoka.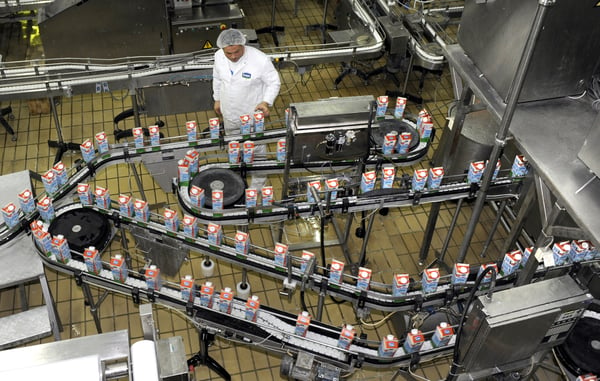 By creating and utilizing a Value Stream Map (VSM) a dairy manufacturer can gain a better understanding of how each process along the production line contributes to waste or contributes to efficiency. The Value Stream Map (VSM) is a tool to help management and employees alike understand their roles within the manufacturing plant, as it clearly outlines what inventory is to be used during certain steps and how long certain steps will take during the manufacturing process. By measuring the inventory used and the time it takes to complete some processes, manufacturers can eliminate non-value adding inventory and non-value adding processes simultaneously.
The Value Stream Map (VSM) will also be a useful tool for continuous improvement, which is one of the goals that lean methods seek to evoke. The future of the manufacturing facility can be made more clear once lean methods are utilized because the amount of waste produced will decrease and efficiency will increase. This will lead to more profit, a better end product and a more satisfied customer.
Jidoka is the Japanese word for Autonomation and was originally invented by Toyota for use in the Toyota Production System (TPS), which was a widely successful and now world famous method in which Toyota manufactured their cars using lean methods. By automating many of the processes associated with creating dairy products the manufacturers can decrease waste due to the high tech machinery's precision and reduce the risk of injury.
Another added benefit of using automation within the dairy industry is the increased ability to detect issues during the production process that contribute to waste. The highly advanced equipment that is used in automation can analyze and compile data so that manufacturers study and continuously improve their manufacturing methods. A standardized process is also created by using automation within the manufacturing process and will further enable a facility to decrease waste and increase efficiency.