How Worximity Improves Thermoforming Efficiency in Food Packaging Process
Food manufacturing remains a highly competitive business and it's only going to be more so. Consumers expect a broader proliferation of food products that meet demanding market segment needs, from plant-based meat analogs to food products and packages designed with senior citizens in mind. Food manufacturing operations are learning to be agile and to be able to quickly bring to market new products for market tests, while simultaneously meeting demanding quality requirements and keeping a lid on production costs.
With the need for food manufacturers to be ever more efficient and productive being paramount, according to a recent article in Plastics News, thermoforming machinery is operating at 3X the speed that they were a decade ago. Thermoforming process cycle times have increased from an average of 20 cycles / minute to many machines now operating at 60 - 65 cycles / minute.
While food manufacturing equipment cycle times are increasing in order to meet the demands of food manufacturing businesses, Mckinsey and Company believes that the food processing and handling equipment market is ripe for disruption. According to their most recent analysis, McKinsey on Food Processing & Handling: Ripe for disruption?, the challenge for food manufacturing businesses is that while "FP&H equipment manufacturers have focused on mechanical machine performance in recent years" (and to their credit, delivering the 3X cycle time improvements noted above), food equipment manufacturers, including thermoforming equipment companies are missing "the potential for more software solutions that leverage data and streamline oversight and processes. Analytics and research should be aligned with operations so that companies can become agile decision-makers and nimble responders to changing market conditions."
For food manufacturers, "the increasing availability of data is leading more companies to leverage advanced analytics to generate insights and learn how to run their businesses more effectively. Industrial companies, and the FP&H equipment sector in particular, however, have lagged in adopting and implementing analytics at scale. Based on the McKinsey FP&H Equipment survey, 80 percent of FP&H equipment executives say that while advanced analytics is one of their companies' top four opportunities going forward, they also rate their progress in adoption and implementation at two out of five, on average."
This situation creates a conundrum for food manufacturing businesses.
The belief that real time analytics systems connected to food manufacturing equipment can drive improved performance is becoming more widely held, yet the manufacturers of this equipment are severely lagging in delivering on this capability.
For many food manufacturing businesses, their packaging lines, and in particular thermoforming packaging systems, represent their largest capital investment. These lines also are often the areas with the most bottlenecks, inefficiencies and unplanned downtimes. This is because these areas are extraordinarily complex while often being the "pinch points" where many process operations converge as multiple products are packaged and readied for shipment.
How can food manufacturers deliver improved thermformed food packaging line process efficiency?
It is possible for food manufacturers to improve the process efficiency of their thermoformed package areas.
Below, we review three extraordinarily valuable research-based resources for thermoforming food packaging operators and managers.
The consistent theme of these detailed reports is that experimentation is required.
We'll review the highlights of the types of experiments these researchers employed in order to drive thermoformed food packaging process efficiency up, but we encourage you to get the reports yourself through the links provided, and review them in detail. These are excellent models to emulate to radically improve your thermoformed food packaging process efficiency.
Resource 1: Improving Thermoform Productivity: Case of Design-of-Experiment
The first research paper that we recommend for you is Improving Thermoform Productivity: Case of Design-of-Experiment by the Journal of Technology and Quality Management. In this paper, research and experimentation was done using six sigma methodologies as applied to a thermoforming process.
The researchers evaluated five main steps of thermoforming: (a) sheet clamping; (b) heating; (c) forming; (d) cooling, and; (e) trimming.
The research-based model that the researchers and authors employ is quite intense.
"This research has used case study methodology to explore and comprehend complex issues, as discussed by Zainal (2007), related to diminishing productivity of thermoforming, and consequently huge quantity of buffer stocks that has to be maintained by the company for stable functionality of the line. For this study, fieldwork was conducted on the assembly line of thermoforming station and, unstructured and qualitative interviews, as suggested by Noor (2008), were collected from Marketing, Engineering and the very next station (i.e. forming) to gain understanding about the critical aspects of thermoforming. Moreover, Zainal (2007) prescribed that a combination of qualitative and quantitative data should be incorporated into the case studies to gauge deeper aspects of the concerning issue. Hence, the study has used experimental research design through Design-of-Experiment (DOE) for six sigma implementation after collecting quantitative data, whereas, unstructured interviews were used for gathering qualitative data."
They established some key factors that affect thermoforming process efficiency as presented in the table below: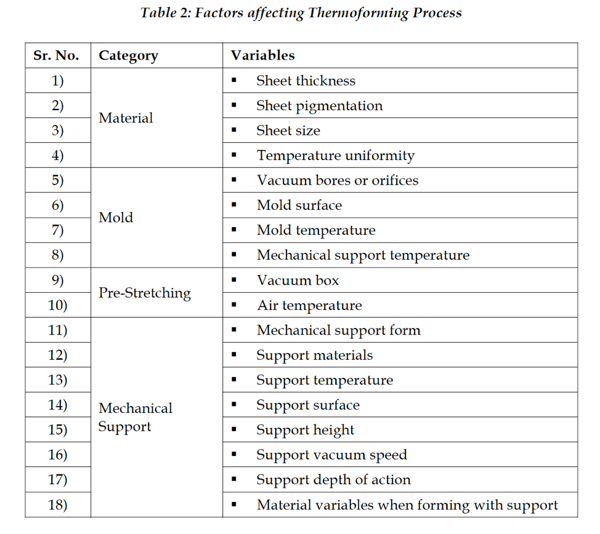 Factors Affecting Improving Thermoformed Food Packaging Process Efficiency - Courtesy Journal of Technology and Quality Management


Then, using a stopwatch they manually gathered data such as that represented in the table below: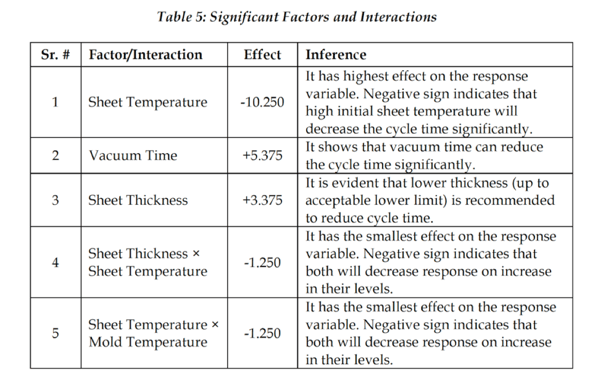 Significant Factors and Interactions - Thermoformed Food Packaging Process Efficiency - Courtesy Journal of Technology and Quality Management
Clearly, using a stopwatch and paper is a crude data gathering methodology with several important drawbacks. The data gathered is subject to error or bias depending upon who is gathering the data (operators or engineers may have a disincentive to accurately report operating performance under their watch). The data gathered is time dependent, that is it may be gathered only during certain shifts, during specific product runs or under conditions where the measurements themselves are biased because the operation is being observed, vs a normal unobserved production cycle.
According to the Thermoforming Quarterly article Controlling the 3 M's of Forming, "the paper reporting systems still in use at many formers typically require a person on the floor to document production, a person in the office to collate the data and enter the data into a system. This redundant data shuffling frequently leads to data entry errors or delays in generating reports because this person is interrupted during their efforts to complete the task."
It's far better to use a Smart Factory Analytics solution that is 'always-on' gathering data 24/7 across all phases of a production process. This reduces the labor costs associated with gathering data and creating reports while making insights available automatically in real time. It also removes bias and errors while enabling long term trend analysis that can lead to more valuable insights. Perhaps most importantly, an always-on Smart Factory Analytics solution like Worximity creates an agile operating environment where process variables can be quickly tested and analyzed, leading to a faster convergence on the optimum process steps.
You can access this thermoforming process improvement research paper here and use the approach to design your own process efficiency improvement program.
Resource 2: Optimal Designs to Develop and Support: an Experimental Strategy on Innovation of Thermoforming Production Process
The second thermoforming process improvement research paper that we recommend for you is Optimal Designs to Develop and Support: an Experimental Strategy on Innovation of Thermoforming Production Process. In this paper, the researchers demonstrate an extraordinarily detailed model for setting up and running thermoforming process improvement experiments.
An example of their detailed documentation of an experiment they ran:
"4.1. The experiment

Characterization of first candidate material was performed. In laboratory flat foils were sealed and tested. Sealing procedure was according to a protocol in order to reduce variability of response: flat foil were cut in squares 10 cm x 10 cm, randomly coupled and sealed always at the same distance from the border; sealing bars were steel made Teflon coated in order to avoid sticking to foil surface; temperature stabilization time of sealing bars was 10 minutes; once sealed, an overnight curing time have been respected in order to allow stabilization of polymeric bonds; 15mm width stripes were cut out from the sealed squares and prepared to be tested; external stripes were excluded from analysis to avoid distortions given by border effects. There was a protocol for tensile strength test as well: threshold force before start 0.1 N; displacement speed of grippers 50 mm/min; initial gap between grippers 35 mm. Both sealing and testing were performed by the same expert operator for the whole experimental design to avoid variance introduced by different operators. The result of tensile strength test is the maximum force measured to open the seal tearing apart the two extremities, from now on named Seal strength. Measure of seal strength value is in N/15 mm because the opening of the seal is orthogonal to the length that is 15 mm. In Figure 3 seal opening during the tensile strength test."
They developed flowcharts to document their experimentation model as shown below, both to document their experimental plan as well as to communicate to key stakeholder what they were up to.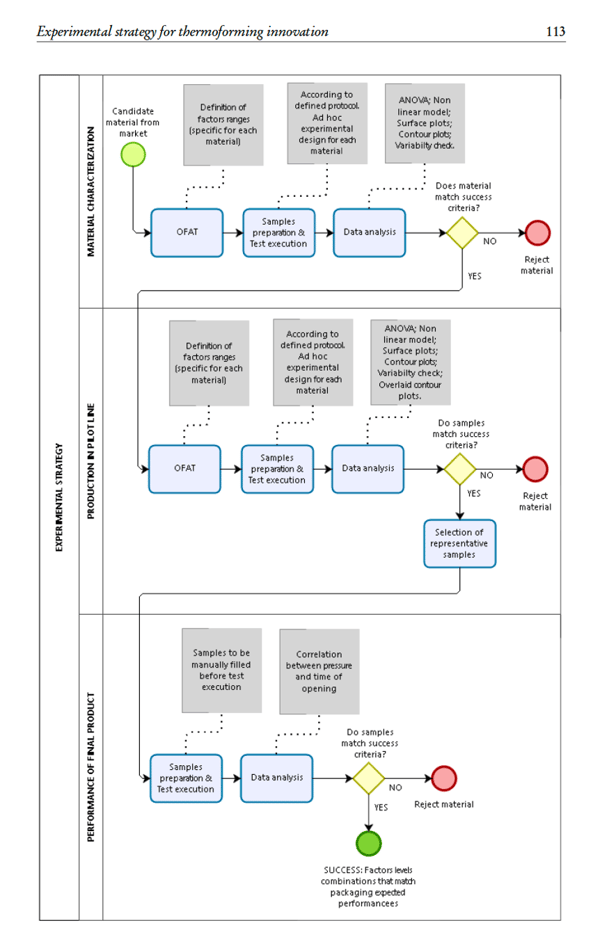 Experimental Strategy for Improving Thermoformed Food Packaging Process Efficiency - Courtesy Dipartimento di Tecnica e Gestione dei Sistemi Industriali, Università di Padova, Vicenza, Italia
This paper is an extremely useful resource for companies wanting to improve their thermoformed food packaging process efficiency to help you in planning and documenting your experimental plan.
Resource 3: OEE Improvement of Thermoforming Machines Through Application of TPM
The third research paper that we recommend for you is OEE Improvement of Thermoforming Machines Through Application of TPM, originally published in 2017 IEEE International Conference on Industrial Engineering and Engineering Management (IEEM). In this paper the authors present the relationship between OEE (Overall Equipment Effectiveness) and TPM (Total Production Maintenance) which are important concepts to understand when you are interested in improving any manufacturing process efficiency, and thermoforming food packaging lines are no exception.
From the paper:
"Total Productive Maintenance (TPM) technique has been used by various organizations for business performance. Significant research has been conducted for various sectors and used for improving equipment effectiveness, eliminating breakdowns, reducing costs and promoting autonomous maintenance [4, 5, 6,7]. It focuses on proactive and preventive techniques for improving equipment reliability. Areas considered are: focused Improvement, autonomous maintenance, planned maintenance, quality maintenance, cost deployment, early equipment management, training and education and Safety Health Environment."
You can benchmark your food packaging line performance against their data, such as the pie chart below, and potentially use their analytical models for your process improvement program.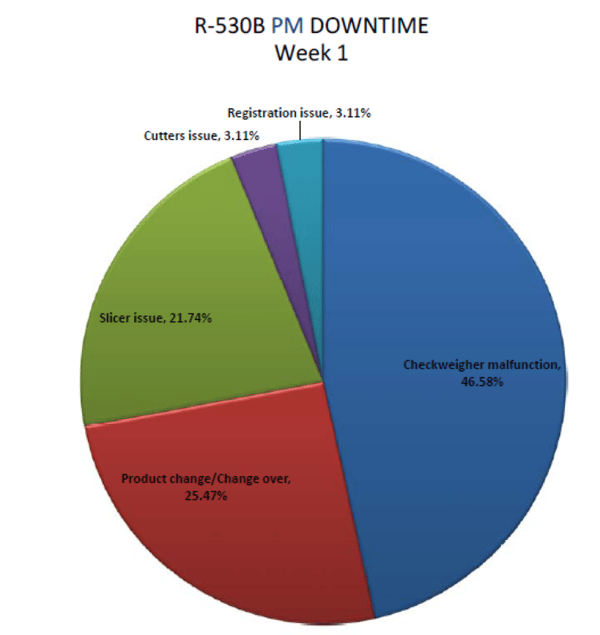 Improving the Thermoformed Food Packaging Process Efficiency - Typical Downtime Causes - Courtesy School of Engineering and Information Technology, The University of Adelaide, SA
We hope that you find these research and experimentation-based approaches to thermoforming food packaging process efficiency improvement to be useful.
In our view, the key takeaways are:
Take a scientific method to process improvement. Use well-designed experiments with the adjustment of limited variables in order to reach clear conclusions.
Document your experiments well, both for the understanding of other key stakeholders as well as for your own benefit to understand what the experimental goals were, what the variables were and what the outcome was.
Use Smart Factory Analytics software such as Worximity to:
reduce data gathering and analysis labor costs
remove bias and errors from data gathering and reporting
achieve faster experiment cycle times
share operational data in real time with all stakeholders
gain the benefit of long term trend analysis which will lead to more meaningful insights and accurate prescriptions
Worximity TileBoard is able to monitor downtime causes, reject causes and frequency of the variable factors affecting the thermoforming process.
If you're interested in improving your thermoformed food packaging process efficiency, reach out to us today